Captain rules the waves
The English PLI formula strongly selects for smaller efficient cows with huge pounds fatt and protein with an extra bonus if it comes through the percentages and strong focus on major health traits. There is less focus on type including udders and feet & leggs. See below for extra information or click here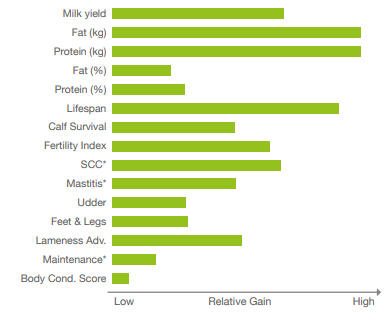 The sire how is taking with a PLI of 861 the top position is Genosource Captain. The top three is complete by the two Peak bulls AltaPlink and Altazazzle.
Looking for the highest bred European bull we find Het Ken Gray coming from the breeding programm of Hans Hurkmans. Transmitting fantastic components even Boris Johnson will welcome this European friend. Het Ken Gray is a Kenobi son out of an Agronaut dam Het Agro Gazelle coming from the famous Diepenhoek Rozelle/Gazelle family.
An other bull we find in the top of the rankings is Gen Pikachu, this bull is a bull to consider for using as a sire of sons in your ET work now also scoring so high in Germany (161 RZG) and the USA (2811TPI). Gen Pickachu is coming from the Genesland Programm. He is similair to Captain a son of Charl, Pikachu comes from the Wilcoxview BC Cami EX-93 koe family.
An other familiar bull we find in the lists is Hul-Stein Cowboy, the bull combines now 736PLI with a notorius 2870 GTPI, the bull comes from the Calico branch of the family of Rgancrest Mr Sam/Southwid Saturday. Also Cowboy excells in his health traits and components. Click HERE for several family members.
With the Daughter proven bulls populair bulls as Westcoast Guarantee, Pine Tree Burley, AOT Silver Helix, Bomaz Alta Topshot, DG Charley, Achiever and Agronaut remain in the top of the rankings.

Click here for a complete overview:
UK - PLI Young Genomic Bulls - 08/20
UK - PLI Daughter Proven Bulls - 08/20
UK - TYPE Merit Genomic & Daughter Proven - 08/2